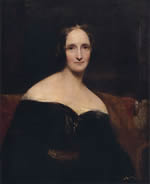 Mary Shelley's novel, Frankenstein; or, The Modern Prometheus, written in epistolary form, is about Dr. Victor Frankenstein, who seems discontent and achieves satisfaction by exploring the supernatural realm in a village near Gevena. The creation of his "monster" comes about because of his unchecked intellectual ambition. His experiment gets out of hand and his reaction to this man-made "monster's" desire for companionship makes for a fantastic read. This thesis has been the basis for several films. The struggles between Dr. Frankenstein and the "monster" he created are fascinating.
This work can be found for FREE at Project Gutenberg.
A FREE version of the audio book can be found here.