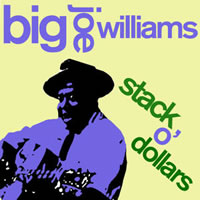 Mississippi blues legend Big Joe Williams testifies on the real value of a Stack O' Dollars, on this astonishing early Delta blues recording.
CLICK HERE TO LISTEN OR DOWNLOAD
Williams' unique 9-string steel guitar rhythm, alongside a haunting fiddle lead, provides the perfect accompaniment to his searing vocal. Joe Williams continued to tour and perform for decades after recording this and numerous other sides for various early record labels. This song is as relevant today as it has ever been.